While college is an incredible time in your life, it can also be a whirlwind of an experience not only for incoming students, but for upperclassmen as well. It's a period of time where you are trying to figure out who you want to be and what career path you would like to pursue, all the while making lifelong friends. But during this, you can't forget the most important thing, the reason that you are attending the university — to further your education! Sure, you were able to handle your classes in high school, but college is on an entirely different level. You will have a multitude of courses to attend, which in turn means a lot of work that you will have to keep track of. From assignments and essays to making sure that you are ready for your exams, it's a lot to handle. And let us tell you, it's not very easy. Unless you have a good organization system that is.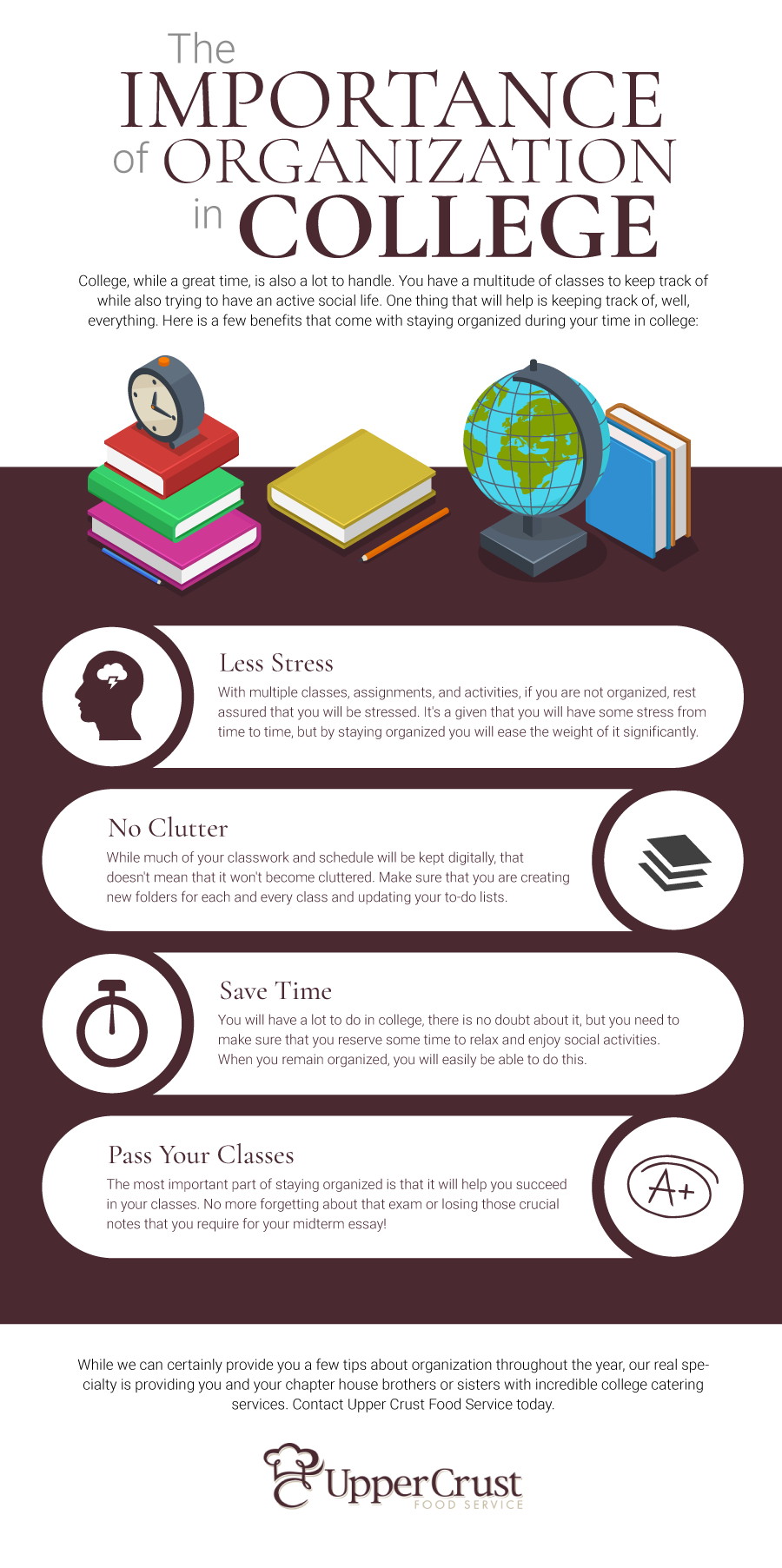 Here at Upper Crust Food Service, we want to help you have the best experience possible while you're in college. While our specialty is, of course, providing Greek houses across the country with mouthwatering meals and snacks through our college catering services, we want to help in other ways as well! Especially here in our blog. That's why we want to provide you with just a few pointers in this post to help you make sure that you have all of your ducks in a row when it comes to your studies. We promise you that you will prevent a lot of headaches and last-minute studying if you follow the advice provided on this blog!
If your fraternity or sorority is currently looking for a reliable food service with an experienced campus chef, then look no further! We strive to provide the best catering services available for Greek houses from coast-to-coast. We make sure that we provide incredible meal plans using only the freshest and tastiest ingredients. To learn more about our services or to get the ball rolling, then please don't hesitate to reach out to us today!
Staying Organized
Have a Calendar and USE It!
It might seem like an obvious tip, but you'd be surprised with the amount of students that only schedule out their classes and activities for the first week or two and then stop updating it, or even use one at all! There are way too many things to keep track of in college to do this, especially for those living the Greek life. You're going to have a lot on your plate and if you lose sight of your classwork and activities, you might miss an important event, like the day of an exam! These days, through technology, it's pretty simple to keep an in-depth calendar on your computer. However, you can never be too careful. So we suggest that you also get a printed calendar to have in your room so that you can check what is happening on that specific day before you leave. 
To-Do Lists
While this can be combined with your schedule, you're going to want to keep tabs on certain things that need to be done. Make sure that you prioritize by what is most important, but keep track of the little tasks as well, including such things as your cleaning duties for your chapter house or even lunch plans. 
Keep Your Notes Organized
If you are new to college, you will soon find out that your notes will be much more extensive than the ones you took while in high school. You'll have notebooks (whether physical notepads or digital) for every class and every lecture. This will, in time, amount to a nearly unfathomable amount of notes, so unless you have your notes highly organized, it will be a struggle to know which notes are where, which is not good! While there are many different organizational systems, and everyone has their own process that works for them, one suggestion that we have is to color-code everything. That way, when you are looking for that one specific topic or class, you will be able to find it immediately.
Your Backpack
Even though so much of our information is stored on our computers or phones these days, you are still going to need to have a backpack since you will need something to carry your laptop as well as your textbooks. Before you head out for your day, make sure that you have everything you need so that you don't show up to your biology class and realize that you have all of your materials for your history class instead!
Let Us Handle the Food 
It really isn't that difficult to stay organized, as long as you stay on top of things. The good news is, that you don't have to worry about what you are going to eat that day, because Upper Crust Food Service has you covered! Our college catering services will make sure that your chapter house has three delicious meals ready for you every day. And that's not all! We will also cater to any special events your fraternity or sorority is throwing, and we'll even provide you with the perfect snacks for your late-night study sessions! This will help in clearing up your crazy schedule!
If you would like to learn more about Upper Crust or are ready to have reliable kitchen services, then go ahead and contact us today!